It's that time of year again! We all love it because we get to see our loved ones and take a little time off to relax and be festive. Best of all we get to shop with no guilty feelings because the gifts are for another person! I like to start early to avoid that Christmas rush.
So if you're wondering what to get for that special someone, here are some ideas!
Bobbi Brown 24 Karat Shimmer Brick
Queen of Neutral Bobbi Brown came out with this new shimmer brick just in time for Christmas. It's rosy gold goodness for that lovely highlight on the face. I swatched it in-store and yes it's gorgeous. Comes in a beautiful little compact with a motif on the cover.
Illamasqua Nail Duo in Viridian and Glitterati
Illamasqua has some great gifts including this nail polish set which is just so vibrant and holiday perfect with an edge. They also have a red and gold glitter set but I think this one is a little more unique in peacock green and a purpley raspberry glitter.
Illamasqua Limited Edition Lipstick and Lip Brush gift set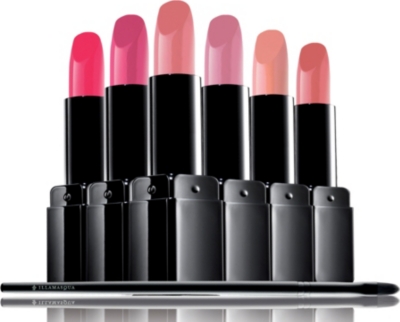 I saw this instore at Myers and fell in love. Featuring 6 of Illamasqua's best lippies in a semi matte finish, this includes Test, Brink, Corrupt, Eurydice, Scandal and Climax, this has all the colours a girl needs.
YSL Rouge Pur Couture Vernis A Levres Glossy Stain
What a mouthful but how very decadent. This is YSL's new revolutionary lipstick and gloss and stain in one for intense colour on the lips. For the sophisticated lady in your life.
Ciate has some very cute duo and trio gift sets but I'm drawn to their mini bar which offers cute minis of their varnish and caviar pearls. For the strictly nails girl who loves to play, this is a superb stocking stuffer!
I was in Paris when Guerlain launched their newest perfume meant for the young lady of Paris. The scent is sweeter and lighter than Guerlain's other offerings but still irresistible and I love the little dress motif on the bottle. It would look dashing on the table.
Love Clinique's Chubby Sticks? You're going to love this set of five featuring some awesome colours from dark plum red to a snazzy orange.
Tarte Fantastic Foursome Amazonian Clay Blush Set
Tarte's amazonian clay blushes are a favourite among beauty lovers and here are four mini ones for the discerning woman, which includes a highlighter in champagne, a fuchsia, a coral and a shimmering nude. A very cute set that I think is a bargain!
You can pretty much pick up anything from Lush but they currently have their Christmas products out which is always a big hit with people. They have some fantastic gift sets especially for those lucky people who have baths (I wish I had a bathtub!), so be sure to check it out. Don't miss out on shower gels, massage bars and body butters either.
Another one of those places where you can pick up a snazzy little gift or pampering basket for your loved one. Body Shop's packaging are always adorable and they create many delightful packs. I especially love their Japanese cherry blossom body cream and they now have a ginger sparkle tin which looks intriguing!